I am a PGA Advanced Professional. This means you will recieve expert advice on every aspect of golf. I have been at Leighton Buzzard for 19 years and I provide a fully stocked golf boutique ready to serve you.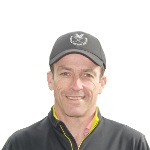 Maurice Campbell - PGA Advanced Professional
My proudest achievments with regards to golf is attaining 100% in the final exam of coaching and theory of the golf swing and I was also the runner-up in the 1998 PGA assistant of the year awards. I have received training from the best coaches in the world such as Butch Harmon, Michael Hebron, Martin Hall, Denis Pugh, Pia Nilsson, Scott Cranfield, John Jacobs, Dr Karl Morris, Chuck Cook, Clive Woodward, Dr Paul Hurrion, Jim Mclean and David Leadbetter.
I have coached and currently coach cl
---
I have been playing golf for 33years, during which time I got my handicap down to 1. On the way I managed to win a Club Championship, play in winning Club Scratch teams, play for the County and play in various top amateur tournaments such as The Amateur Championship. I also caddied on the Ladies European Tour for a while which made me very aware of how much preparation needs to go into top class golf, not just technique but also course management and mental toughness. Since then I completed the
---